What Is A BER?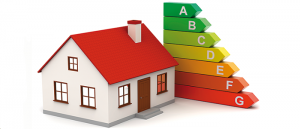 The standardised way of rating the energy efficiency of properties in Ireland is with a BER, i.e. a Building Energy Rating.  A qualified BER assessor carries out a survey on the property and then issues a BER Certificate with the rating from the energy efficiency scale ranging from A to G with A1 being the most energy efficient rating and G being the least energy efficient rating.   If you you are selling or letting a property in Ireland, a BER is mandatory.
With a BER certificate you can judge the potential costs of running a property, making comparison with other properties easy. However, even if you are not selling or letting, a BER energy audit can still prove beneficial as every BER certificate is accompanied by an Advisory Report which details the ways in which you can improve the energy efficiency of your property, ultimately saving you money.
The BER Certificate
This is a sample BER Certificate (click on certificate for larger version).  
A BER certificate is valid for 10 years from its date of issue, provided there have been no major changes to the property that would substantially alter its energy performance e.g. an extension, new heating system.
The actual cost of a BER survey and issuing of your BER Certificate very much depends on the size and type of your property.
Contact Michael for a quotation.